CleanAir Max: A smart air purifier that adapts to you
Isn't air purification just air purification? Does it need to be 'smart'? Once you've learned about all the advantages it can bring, you'll wonder how you lived without it. Here's our guide. 
Smart air purification explained
We all know that feeling of being on holiday out in nature and enjoying the fresh, clean air, but shouldn't that be a feeling we can enjoy every day? We spend around a third of our lives in our workplace, which is why it's so important that the air there is as good as new. 
Having clean air in the workplace can:  
Make your employees healthier, reducing sick days or absenteeism

 

Save on cleaning and maintenance costs

 

Boost your reputation as an employer

 
All of which is why it shouldn't be considered as a luxury option. 
Luckily, it doesn't have to be, thanks to the Zehnder Clean Air Max, which makes it easy and efficient, and this is how… 
A revolution in air cleaning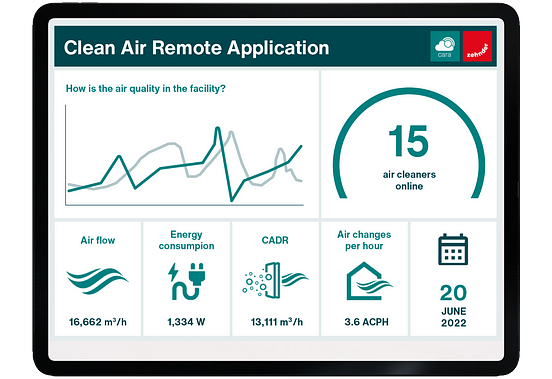 The brain power behind the CleanAir Max is CARA, which stands for Clean Air Remote Application. CARS makes your air cleaning so smart that you'll wonder how you coped without it. 
Here's how CARA achieves it: 
All-in-one

dashboard

–

Everything you could need to know about your air purifier's performance is available on CARA's dashboard, from how much air is being

cleaned to how much electricity is being used

. You can also generate reports from historical data without any fuss

.

 

Real-time monitoring

–

CARA

uses

sensors and real-time data to optimi

s

e your air purifier so that it meets your requirements at all times

. It lets

you follow in real-time how any changes or optimisations are affecting your air quality and balance sheet.

 

Intelligent air purification

– It's easy to manage your air purification but it's even easier to let CARA do it for you. It will

learn

your environment inside and out,

automatically

adapt

ing

to changes even before they happen

while keeping

an eye on your budget.

 
In summary: how to clean your air the smart way
Maximum i

ntelligen

ce

-

Our

smart air purifier is packed with new, intelligent features that not only keep your air clean, but also provide you with all sorts of useful functions.

You can m

onitor, control, plan

–

all from your

mobile phone or tablet

, delivering c

lean air

with just the tap of a screen.

 

Maximum flexibility

-

No space? No problem! The Zehnder

CleanAir

Max fits on the ceiling, wall or floor. And

its modular design

means it

is not only suitable for any room or hall size, but also for any type of dust

thanks to its i

ndividual filter combinations

.

 

 

Maximum power

–

What might be the extra mile for some is

standard for us

. W

e have equipped our Zehnder

CleanAir

Max for you with highly efficient filters, solid housing, powerful motors and fan

s to give you a

high Clean Air Delivery Rate (CADR) and even better air distribution

.

 
If you've heard enough to want to give CleanAir Max a try in your workplace, get in touch with us today! 
Clean air is within reach
Enjoy expert advice tailored to your working environment
Start your journey