Aperçu
Rédigé par Zehnder Clean Air Solutions | 16.01.2020
Benefits of clean air Industries we work with Start with clean air Technical
There is no doubt that a successful company is led by people who are passionate about their work. Good leadership inspires others to do their best and build a great business. Of course, while people, passion and product are a company's backbone, customers are its life-force.
Scratch the surface of an impressive business and you'll find that a strong customer focus drives its operations. At Zehnder Clean Air Solutions, we take a customer-centric approach for this very reason. As the largest air cleaning company in the world, it is our aim is to be the best in the business.
How do we do this? For us, customer focus means understanding our customers' problems, providing solutions and working with them to achieve remarkable results. We are obsessed with ensuring our customers have high-quality indoor air – which is why we measure dust levels so meticulously and have done so for the last two decades.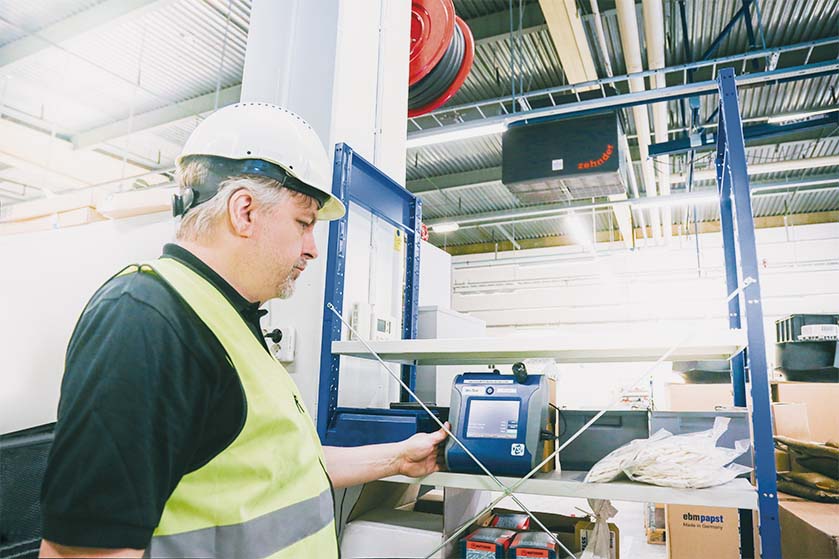 The technology of clean air
Our Technical Business Support is located in Sweden and deals with pre and post studies on dust levels for different branches all over the world. We measure dust levels using an appliance called DustTrakTM which is produced by TSI. Working with research institutions and customers around the world, TSI investigates, identifies and solves measurement problems relating to indoor air quality – as well as many other applications.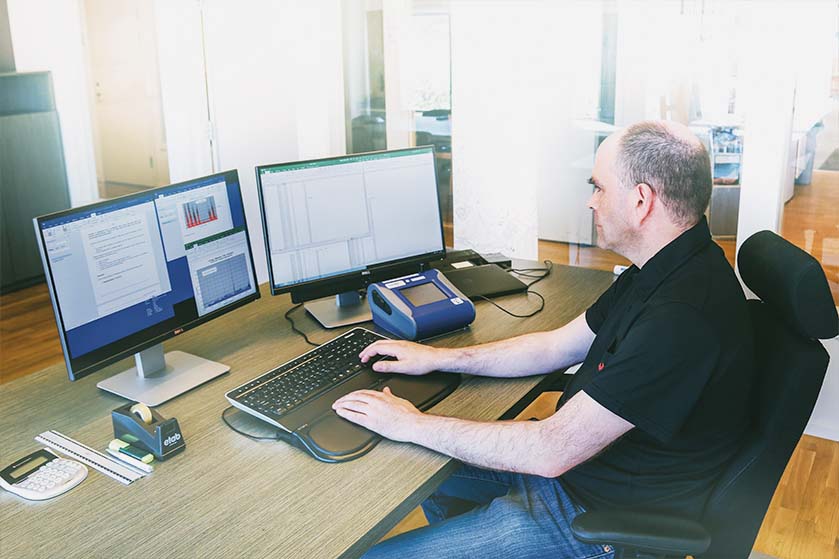 Our partnership with TSI enables us to exactly quantify the aerosol mass readings of dust, smoke, fumes, and mists within a workplace. Once we have identified the issue, we can then take action to significantly reduce the amount of harmful airborne particles that cause problems for our customers and that prevent them from reaching their own goals.
One of our customers, for example, asked us to check whether toxic airborne metals could have been eliminated from the workplace. We discovered traces of cobalt, wolfram and nickel caught in the filters which posed a risk to employee health and well-being. Based on our findings, the company could justify the decision for Clean Air Solutions and had proof that their employees' health was taken care of.
Other customers have to make sure that their indoor air quality adheres to certain levels in compliance with regulations. This can't be done with single dust level measurements being carried out every now and then. We provide a regular and reliable dust measurement programme to ensure that their indoor air meets the required standard.
Monitoring dust in real-time
To help a large supermarket chain in the Netherlands maintain clean air, we installed stationary DustTraksTM in all of its distribution centres. These DustTraksTM were connected to a website that the supermarket chain could access at any time to check its dust levels in real-time. This way, the company knew the exact concentration of air pollutants and could adhere to its set targets with immediate proof.
Should dust levels within the distribution centres exceed the set target, the DustTraksTM send us an alert. The Zehnder team can then modify the frequency of filter change intervals or adjust the number of air cleaning units. This continuous dust level monitoring works so effectively, the supermarket chain received the go-ahead to install Clean Air Solutions and implement continuous dust level monitoring at the distribution centre that they are currently building.
Customer focus in a connected world
In today's connected world, customers need solutions that align with their own on-site software. Zehnder Clean Air Solutions' real-time access to dust level monitoring enables our customers to take clean air seriously.

By prioritising high quality-indoor air for their employees, equipment and products, our customers are able to deliver a superior service to their customers. It's only right that we match our customers' enthusiasm for customer focus and provide leading services and solutions in pursuit of clean air.